Made in the USA – Available from our So California Warehouse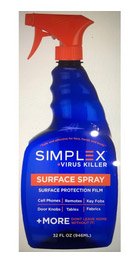 Simplex + Virus Killer Surface Spray is made in the US. Production is made in accordance with the Coronavirus/Covid-19 Disease Pandemic Emergency Sanitizer Solution Formula Issued by the U.S Department of Health and Human Services & U.S. Center for Drug Evaluation and Research 2020, 21CFR10.115(g)(2).v–.
It is perfect for all uses especially for hospitals, schools, transportation systems and other high traffic areas. It is also safe and effective for use on the face, hands and body.
The FDA approved formula is:
80.00% Ethanol (denatured)
1.45% Glycerol
0.125% Hydrogen peroxide
18.425% Pure water
This is not the normal hand gel most people are used to. This is more of a high quality liquid that can be sprayed on surfaces as well as on the hands. It comes in all sizes from 8oz spray bottles to larger 275 gallon returnable container tote and 55 gallon drum sizes for industrial use including within backpack sprayers. Please request a Manufacturers Safety Data Sheet for more information. Pricing available based on volume and destination.
Hand Sanitizer /Disinfectant Gel
Clean & Care Hand Sanitizer is made in Korea and is only available in large quantities due to it having to be brought to the United States in full 20ft or 40ft ocean containers.
The FDA approved formula is:
70.00% Ethanol
2.00% Dipropylene Glycerol
0.40% Carbomer
0.40% Trolamine
27.20% Water
Please contact us for a quote as final pricing will be based on the quantity ordered and final shipping destination.